Beetel FWP F2N GSM Phone
GSM Phone
Beetel, the most trusted brand in landline category brings you the Fixed wireless phone F2N for your home and offices. The phone weighs about 530 gm and supports Quad band GSM (voice)-850MHz/900 MHz/1800MHz/1900MHz. This Fixed wireless phone supports Dual Sim operations. It has high performance detachable Tnc Antenna. It come with built in FM and hotline function. It has phonebook memory to store 1000 number with name. Can send and receive SMS, Batteries standby time 50 hrs, talk time 3 hrs, calculator and alarm function. It comes in Black colour with 1 year warranty.
Key features
Supports Dual SIM (GSM) operations.

Send and receive SMS (Max 400 SMS can be stored), Phonebook Memory-1000 Nos.

Speaker phone, FM Radio, Battery Standby: Approx 50 Hrs, Talktime: Approx 3 Hrs.
Description
The Beetel F2N Fixed Wireless Phone gives you amazing features with wireless ease. Its high-performance detachable TNC antenna gives you very good connectivity indoors and in low network areas while keeping the electromagnetic radiation to a minimum. It makes sending and receiving texts a breeze and can store up to 400 text messages in its memory. The call log efficiently displays the last 10 missed, dialled and received calls while being able to save 1000 contacts, whether you're working in the office or spending time at home. The 1000 mAhLithium ion battery gives an excellent 50 hours of stand-by time with 3 hours of talk time while the in-built FM Radio lets you experience your favourite tunes and stations from your landline phone. It weighs a light enough 730 grams and comes with features like adjustable receiver volume, alarm function with snooze, and even a basic calculator. All this makes the Beetel F2N Fixed wireless phone the perfect partner for your home and office requirements.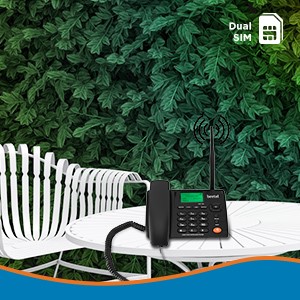 DUAL SIM
The Beetel F2N Fixed Wireless Phone comes with a detachable antenna and supports Dual SIM operation. You can make voice calls and send messages from either service provider while roaming around the house with wireless ease.
The signal strength of both networks can be seen in the LCD display. The detachable TNC antenna gives you great connectivity even in places with low network. It also keeps your exposure to electromagnetic radiation to a minimum.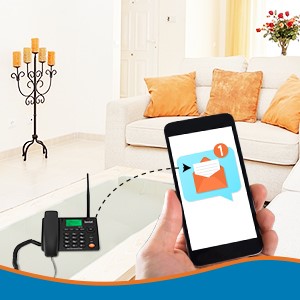 TEXT SIMPLY
Scroll through messages conveniently and save up to 400 messages on your fixed wireless phone from the comfort of your office or home.
Sending and receiving text messages is made easier with the backlit display of the wireless Beetel F2N.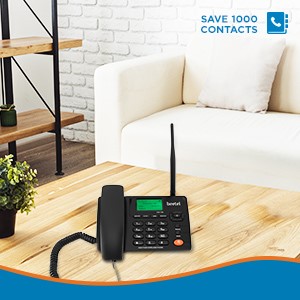 LARGE PHONE BOOK MEMORY
You can scroll easily through the large phone book memory inside the Beetel F2N which lets you store up to 1000 contacts for secure recall of your office or home contacts.
Moreover, the call log also lets you view the last 10 missed, dialed and received calls.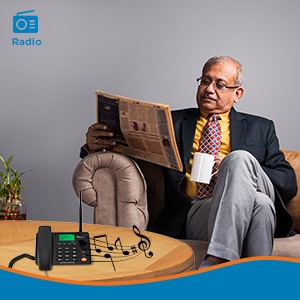 FM RADIO
The versatile Beetel FWP F2N also lets you tune in to radio stations and listen to your favourite songs through the landline with the inbuilt FM Radio.
Other useful features include the adjustable receiver volume, an alarm function with snooze option and a basic calculator.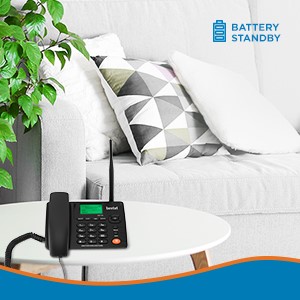 RELIABLE BATTERY STAND-BY
It has a 1000 mAhlithium-ion battery that offers a remarkable 50 hours of stand-by time and 3 hours of comfortable talk time when on full charge.
The battery level can be seen in the LCD display while the adaptor with surge protection securely charges your device